10th November 2017, Munich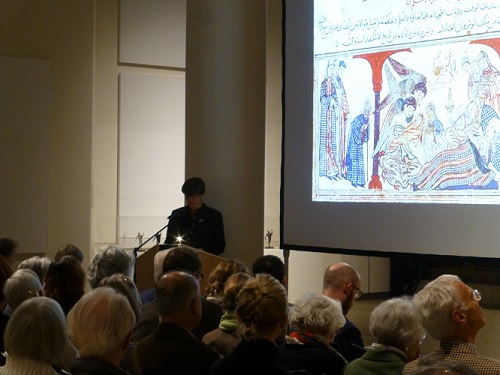 On Friday, 10 November 2017, Dr Renate Eikelmann, the Director of the Bayerischen Nationalmuseum in Munich, and the German Stiftung – Gingko Library invited guests to series of three lectures in celebration of the launch of Professor Karl-Josef Kuschel's Christmas and the Qur'an. Professor Kuschel's lecture on 'The Birth of Jesus in the Qur'an' was framed by Professor Carole Hillenbrand, who spoke about 'Mary, the mother of Jesus in Islam' and Professor Robert Hillenbrand's talk on 'Pictures of the Prophet'. The event was a fundraiser to support the aims and activities of Gingko. The evening was organised by the Stiftung – Gingko Library to raise funds to support Gingko's inter-faith projects.
Karl-Josef Kuschel is Professor Emeritus of Catholic Theology at the University of Tübingen, Germany. He taught the theology of culture and inter-religious dialogue and was the deputy director of Institute of Ecumenical and Inter-Religious Studies. He was a member of the advisory board of Theology and Literature (London). From 1995 to 2009 he was vice president of the Stiftung Weltethos, working closely with his doctoral supervisor and founding president of Weltethos Hans Küng.
Download lecture notes here.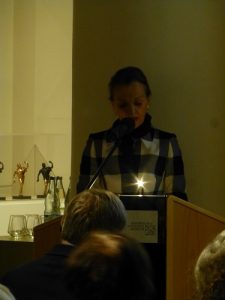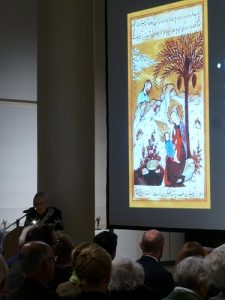 Professor Carole Hillenbrand was educated at the Universities of Cambridge, Oxford and Edinburgh, the latter where she most recently held the appointment of Professor of Islamic History. Amongst her many academic distinctions, Prof. Hillenbrand is a Fellow of the British Academy, Fellow of the Royal Society of Edinburgh, and in 2009 was awarded an OBE for services to Higher Education. With research interests including the Seljuqs of Iran and Turkey, the Crusades, and medieval Muslim political thought, Prof. Hillenbrand's appointment enhances the existing expertise of the School of History in medieval and Middle Eastern history. In 2005 Prof. Hillenbrand was the first non-Muslim to be awarded the highest accolade in Islamic studies in the Arab world, the King Faisal Prize for Islamic Studies. Since 1983 she has been Islamic Advisory Editor at Edinburgh University Press and from 1999 has been the editor of the series entitled Studies in Persian and Turkish History, published by Routledge. Awarded the British Academy/Nayef Al-Rodhan Prize for Transcultural Understanding, 2016 for her book, Islam: A New Historical Introduction (Thames & Hudson Ltd, 2015).
Download lecture notes here.
Professor Robert Hillenbrand was educated at Cambridge and Oxford and has spent most of his career teaching at the University of Edinburgh, with visiting professorships at Princeton, UCLA, Bamberg, Dartmouth College, Leiden, New York, Cairo and Groningen. He is currently teaching as Professorial Fellow of Art History at the University of St Andrews. He has organized 10 international symposia on Islamic art. His scholarly interests focus on Islamic architecture, painting and iconography, with particular reference to Iran and early Islamic Syria. His books include Imperial Images in Persian Painting; Islamic Art and Architecture; The Architecture of Ottoman Jerusalem: An Introduction; Studies in the Islamic Arts of the Book; Studies in Islamic Architecture (2 vols.), and the prize-winning Islamic Architecture: Form, Function and Meaning. In addition, he has edited seven books and co-edited four more. He has also published some 170 articles on aspects of Islamic art and architecture. He has served as Slade Professor of Art at Cambridge and is a Fellow of the British Academy and of the Royal Society of Edinburgh.
Download lecture notes here.